I'm quite excited about the week I'm having. It's up there with some of this year's best. I'd probably go as far to say that I'm almost as excited about this week as I am about this album artwork:
I mean I haven't heard it, and I don't really want to, but if I could look 10% this good on an album I'd made. I'd die happy. Even if as a result of some terrible arson attack, committed by relatives that I didn't even like...just so they could claim their stake in my future will.
The day before yesterday, for some reason relating to my recent undertaking of a vacant position as an mtvtwo-bit Summer employee (that then seemed to spill over in to the Autumn and Winter as well) I was invited to join a panel at their studios in Camden to discuss the year we've just had: Known to its close friends as 2008. Well not the year in general, more just the year in music, or even more precisely the year in Indie - always one of my favourite subjects. It was honour enough being given the chance to let off some steam about my favourite and least favourite releases, but when I was coupled with a couple of my teen icons, it made the pudding all the sweeter. Is that a proper phrase?
Sharing my sofa (to my left) was the legendary Corey Taylor, lead singer of Slipknot. I had already had the pleasure of meeting Corey in August of this year in the absence of Slipknot's Reading and Leeds perfomances (see Blog-Royale August 23), but this time it seemed all the more surreal, with him out of his mask, giving opinions on everything from Kanye West's disappointing Thriller remix to These New Puritans videos to Ox.Eagle.Lion.Man's lyrical themes..."Wait a second you write songs about hoofs?".
Opposite us were Nick, the drummer, and arguably wittiest member of the Kaiser Chiefs, and an icon of my teenage years, Carl Barat, core member of a band named The Libertines, who I had the pleasure of seeing 11 times before their demise. I remember reading an issue of the NME aged probably about 16, in which Carl was described as cool because he went round with his belt undone. I think I even blu-tacced that article (along with every other on the band) to my wall. How terribly homo-erotic.
Zane Lowe hosted the discussion, and it was extremely enjoyable being able to call him out on many a contentious issue, whilst Corey came out with classic lines such as "Chris Martin, if you're watching this: Go eat a bag of shit!"
I have a relatively amusing photo of the five of us, but I don't know how I feel about posting it on this blog...yet. Maybe I'll save it for a Christmas special.
I won't do too much more to ruin the programme in advance. It's about forty five minutes long, and if you have access to MTV TWO, make sure you check it out. Okay, it's not the channel it once was. But neither is Challenge TV. I am happy to watch a LOT of re-runs of Takeshi's castle. But every man has his limit.
As I walked through the foyer of the studios to go and peruse the 'pretentious metal' (it's actually labelled that) section of the Camden CD/Vinyl exchange, I noticed Shawn Crahan (aka Slipknot's 'Clown') out the corner of my eye. I may now have mer Corey a few times, but it will be a long time before I have the guts to talk to Slipknot's more intimidating members...especially those who are scarier with their masks OFF...
Seriously though, it's ALL happening at the moment. I got this e-mail yesterday, thanks to my cousin Henry (check his blog
HERE
):
Anyone who has E4 and has seen the first series of The Inbetweeners (the Thorpe Park episode being a real standout) should have some idea of how excited I am about this prospect. They're looking for people to be in a 'house party episode' OR a 'clubbing in London episode'. Both sound pretty sick to me.
Also, Ox.Eagle.Lion.Man's 'Obscured By A Setting Sun' is out this week for download. The following six tracks for £3.49:
If This Is a Man 3:38
The Road to Damascus 5:51
Thy Will Be Done 5:01
Providence 6:33
Null-O 4:50
100 Days of Penitence 7:41
If you're iTunes habits are anything like mine, I implore you that your £3.49 will be better spent on OELM than single tracks by Imogen Heap, M People and Axwell. I don't really know who that last one is, but 'I Found U' IS a pretty solid tune.
If you don't believe me that Ox is worth it, read the review in the issue of Rocksound that's just come out. I've never actually read a copy until today, but there's actually loads of stuff about music in it...strange for a music magazine. Also if you DO want to buy our new release, but don't really like the idea of ethereal invisible music, feel free to wait a month for the (deluxe?) edition of 'Obscured'. I am assured there will be shiny bits, a poster, and another wonderful cover painting by wiggy artwork extraordinaire
Patrick Woodroffe
. And yes, on this release we break the seven minute barrier.
Another band who break the seven minute barrier are the Video Nasties. I watched them do so with their modern classic 'Teenage Celebration' at the launch party for their Albatross EP last week at Durrr. I talked about being a big fan in my previous blog, and this show reminded me why I am, with one of the most indie mosh pits I've seen in a long time. Jack Pen8 tearing chunks out of Florence & The Machine's hair. etc. etc.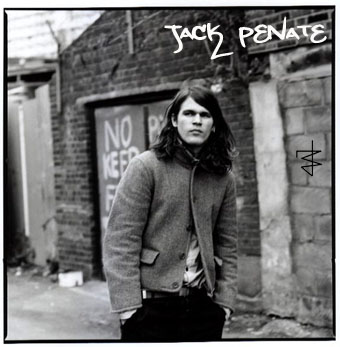 To get back on a theme that seems to be threatening to take over this whole blog-post, I then actually went to see Slipknot at the Hammersmith Apollo yesterday, for their last night of what will probably be remembered as a pretty epic three day stint. Not only was it one of my gigs of the year, joining Tom Waits and Nick Cave (as well as Vampire Weekend's victorious outdoor Spin party set at SXSW) but I'd probably go as far to say it was one of my top five of all time. It was just so well prepared, right down to the minute details of the animatronic eyebrows on Sid's mask, and the baseball bats that would be thrown to Clown from the side of the stage moments before being needed. The Guardian cynically called it the beginning of the Panto season. But even Dirty Den as Captain Hook didn't have a set list like this:
'Surfacing'
'The Blister Exists'
'Get This'
'Before I Forget'
'Disasterpiece'
'Dead Memories'
'Psychosocial'
'The Heretic Anthem'
'Prosthetics'
'Spit It Out
'Duality'
'Only One'
'People = Shit'
'(sic)'
Okay, if I'd had my way, they would have thrown in maybe 'Left Behind' or 'My Plague' off Iowa or a couple of tracks of the better All Hope Is Gone material, but we were promised more of that on their return to these shores in 2009, and anyway this was truly a show like no other. It was worth it all just to see shit like this:
And bare in mind that's before any music had even started.
'Duality' and 'Psychosocial' were personal standouts, but it was great to see a lot of first album songs being performed, and therefore a whole barrage of nu-metal rapping that I had almost let slip my mind in recent months. This came to its logical conclusion in the middle of 'Spit it out' when the whole (and I mean the WHOLE) audience crouched down on the floor, without even being properly prompted. Having never been brave enough to go and see them earlier on in my life I was by no means ready for the violent jump back up in unison. Just in time for the historic refrain of "Fuck me! I'm all out of enemies!"
Whilst searching flickr for pictures of the show, I stumbled upon this:
Wouldn't you get REALLY pissed off if you covered yourself in Slipknot tattoos only for them to turn up one album later with newer cooler masks. I know I would.
Aaaaaargh. There's so much I wanted to talk about in this blog. I didn't even get a chance to mention The London Bridge Experience that I had the pleasure of last week. But that will be coming soon, along with a review of the new Killers album by Dev. In exchange I will be writing a review of Britney Spears' Circus for his blog. Blog-Royale's best wishes are with Dev, as he has just found out he has nodes on his throat and therefore has to have a gnarly operation and won't be able to sing for two months. As I pointed out to him however, it means he will be able to join the exclusive alumni of the Vocal Nodules wikipedia entry that includes such greats as Davey Havok from AFI, Bert McCracken from The Used, and most importantly Nic Cester from Jet.
Now to let this era of positivity continue. And if you want to join me as I go onward within it: Durrr, the Monday night club mentioned above, that takes place at the soon-to-have-dissapeared End venue near Tottenham Court Road, will be hosting the incredible Simon Bookish on Monday. Whilst consecutively over Monday, Tuesday and Wednesday, if you go to the Soho Theatre at about 9:30, you will be able to catch a rare London performance by this hero of mine:
"Keep on rollin' baby."